According to CYFD (Children, Youth and Families Department) : There are twelve alternatives to lashing out at your child. Review them. What works for you? Do these tips/tricks help you better control your anger, or your feelings? Is it okay to yell at your children?
What other tips and tricks work for you?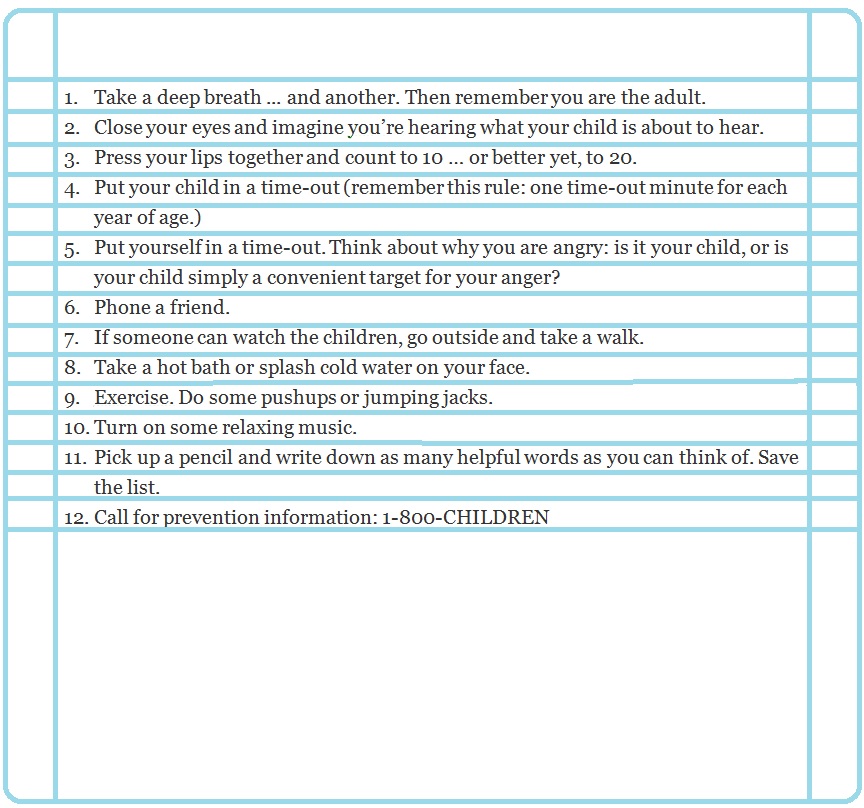 How do you respond to various situations? When you face a frustrating situation, take a deep breath. What is so frustrating about it? What is the appropriate response? Do you keep it bottled up until it has to explode and end up taking it out on your children – either by yelling, hitting them, or otherwise causing them pain? What is your trigger? Is it really something your children have done or is it something someone else did and your children are convenient targets? What is your trigger? Is it something you can face head-on or need to address in private?
Are you aware of these behaviors in yourself?  If you catch these behaviors in yourself, you can change them. By changing them in yourself, you then model appropriate behavior for your children. It's a win-win.
When you see that something is too frustrating for your children, attempt to help them step back, break it down into more manageable steps, and try again. Always accept their best – as long as they're making the effort and completing the job. In time, we'll work on having them do the job well. For now, it's teaching them to finish what they've started. As we work together – this is key, the working together – we can show them a different way or even learn from them. But remember to be open to your children and to follow their lead. Our way isn't always better. Let's not shut them out, or down, when they present something different from what we expect. As long as the job is done, be satisfied.
Model healthy behaviors for your children. Be the parents they need to be. Be intentional.
http://cyfd.org/child-abuse-neglect/twelve-alternatives-to-lashing-your-at-your-child/
Take a deep breath … and another. Then remember you are the adult.
Close your eyes and imagine you're hearing what your child is about to hear.
Press your lips together and count to 10 … or better yet, to 20.
Put your child in a time-out (remember this rule: one time-out minute for each year of age.)
Put yourself in a time-out. Think about why you are angry: is it your child, or is your child simply a convenient target for your anger?
Phone a friend.
If someone can watch the children, go outside and take a walk.
Take a hot bath or splash cold water on your face.
Exercise. Do some pushups or jumping jacks.
Turn on some relaxing music.
Pick up a pencil and write down as many helpful words as you can think of. Save the list.
Call for prevention information: 1-800-CHILDREN