We have covered writing checks, balancing a checkbook, and even budgeting before in previous posts. This time, we are going to go over personal bookkeeping. Why? Because being able to keep your own ledger can help you budget your finances as well as itemize properly on your tax return.
Since this is the technological era where you are most likely reading this post on a screen of some sort, we are going to cover bookkeeping on your computer. But first, a little background.
Around this time last year, I was helping a friend of mine in his bookkeeping business. He had a few clients and I would help him out by doing the ledger in a spreadsheet that I had to make myself. This was quite annoying as I had to make each category myself and then remember where they all were. I decided to look into a few programs to find out what worked best for me and was better than using a spreadsheet. I found a good program that can be used for businesses, but is also flexible enough to be used for personal use as well.
How many people know of Quicken and Quick Books? Probably most people have heard of those programs or have seen the commercials. Those programs – while great tools – cost some money, especially for every year. We will not be talking about those programs.
How many people know of GNU Cash? Not many, I'm sure. GNU Cash is a free and open source bookkeeping program, and the one that I found to help myself and my friend out in his business (to be honest, he kept using Quick Books since he needed more in-depth information for filing taxes for businesses, but for ledger keeping it is great). GNU Cash is great because 1) it is free, 2) it is cross platform – meaning it can be used on Mac, Windows, Linux, and Android (not a full port but enough for bookkeeping on the go), and 3) it is easy to use. Since this is a post about bookkeeping in general, and not a how-to guide for the program, let us focus on the actual process of bookkeeping.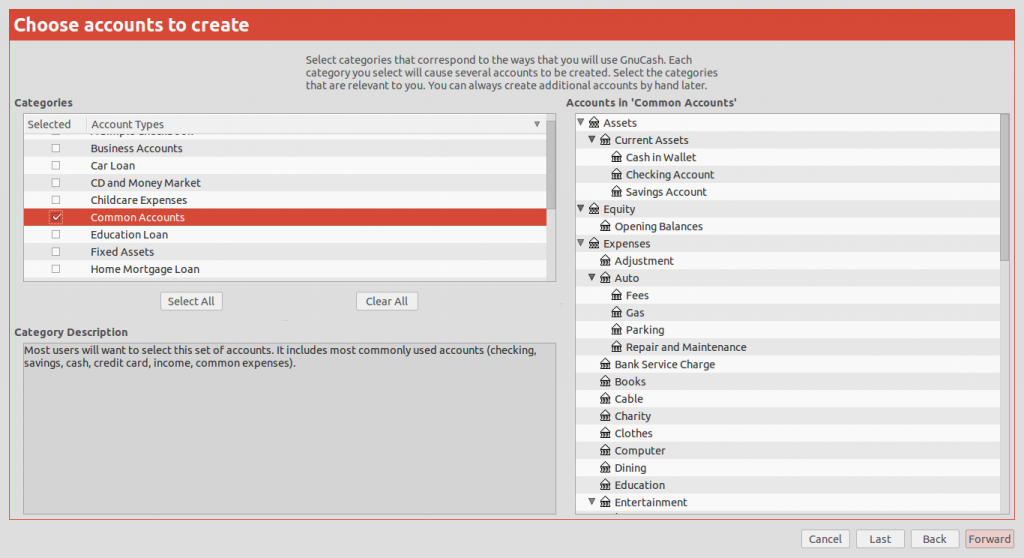 Firstly, there should be some kind of setup wizard like in the picture to the side. This will help you to set up whatever kind of account that you are trying to bookkeep. In the example to the left, we are just using a basic "Common Assets" which is just like a general bank account. If you notice the right side of the picture it has different categories for different things.
I'll go over some of those other things below. So our first step is just selecting the type of account we want to work with, and then a blank template with different categories.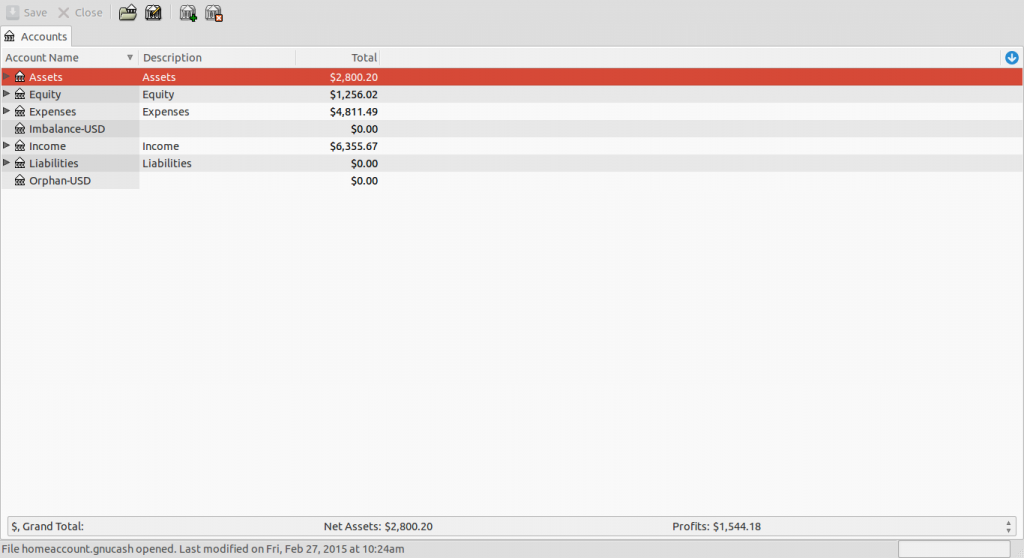 This is what your account will look like with all of the subcategories closed. This is just a sample of what an account will look like after you've added information. I know the picture is tiny, but you can click to enlarge it.