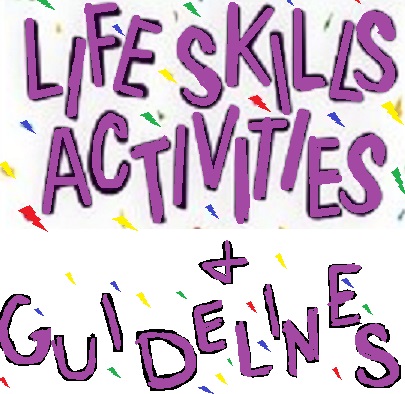 Social Media. Thanks to social media, we are able to share goodies such as blogs, articles, vlogs, videos, how-tos and various resources. A goody shared today via facebook is about "guidelines for practical life skills for kids" and is seen here: http://www.thirtyhandmadedays.com/2015/03/guidelines-for-practical-life-skills-for-kids/
Life skills are very important, so we'll look at these and add to them, starting from 13 years to adulthood.
Note, too, the values. We'll also look at and add to these values, since we are learning about what we value and what things we find of worth.
So here's a quick list provided in the guidelines, beginning at age 13:
House cleaning
CPR – I would even say basic first aid
Prepare and cook meals – this includes menu planning, cleaning the kitchen, shopping, cooking and serving
Banking – deposits and withdrawals, balancing a checkbook, budgeting
Interviewing skills – including proper dress, affectation, respect, eye contact, clarity and enunciation, calming one's nerves
beginning at age 16:
fill a car with gas – and even begin to see to regular maintenance such as checking the oil level and taking it in to be maintained at either the dealership or auto place
Change a tire – keep a car stocked for roadside emergencies, know where the spare is and how to properly change a tire, which side of the road to park on, roadside safety
Read and understand medicine labels – directions for use, dosage instructions, proper handling and storing of medication
Fill out a job application/get a job – interviewing skills (see above), resume writing, accountability and responsibility to employer and colleagues, self-respect and respect of others
Know how to schedule doctors/dentist appointments
Pay bills – auto pay, budgeting, balancing checkbook, responsibility
Understand contracts – lease agreements, car loans
The above are basic life skills and cover a broad range of day-to-day activities, providing opportunities for growth and personal development.
Values discussed are such as and defined by the author, Mique (30days, 2015):
Caring: feel concern for others
Common Sense: to think things through
Cooperation: work together towards a common goal
Courage: face challenges with confidence
Curiosity: desire to learn about a wide range of things
Effort: try your hardest
Flexibility: ability to alter plans when needed
Friendship: make and keep a friend
Initiative: do something because it needs to be done
Integrity: act according to what's right and wrong
Organization: plan, arrange, and implement in an orderly way
Patience: wait calmly for something
Perseverance: continue in spite of challenges
Pride: satisfaction from doing personal best
Problem-solving: seek solutions to difficult situations
Responsibility: accountable for own actions
We'll look more thoroughly at these values, applying our own definitions and determining our personal values, even values we can bring to our communities.